Social Media Examiner has great tips for social media success. Here are some of their tips on being successful with LinkedIn.
Are you wondering how to get the most from LinkedIn? Over the last few months, the LinkedIn network has made upgrades and undergone changes.
If you already have a profile created on LinkedIn, it's a great time to revisit and refresh your presence!
Or if you're just wondering how to get started, these 5 simple steps will help you make the most of your time and effort!
Why LinkedIn?
LinkedIn is the largest professional social network online today, with over 100 million professional users. The average household income of LinkedIn users is over $88,000 per year, which outpaces the average income for the readership of the Wall Street Journal, Forbes and Business Week!
If you are a professional or a business owner, you can't afford to miss out on the opportunity to build relationships with potential customers, clients, partners and peers on LinkedIn. It's a powerful audience that you can engage, interact with and influence.
#1: Complete your LinkedIn "profile box."
When visitors first land on your LinkedIn profile, a box displaying your profile highlights fills the screen. Given the importance of first impressions, the information in your "profile box" should be complete, current and optimized.
This is your best chance to make a good impression. In many cases, someone may read through your entire profile, but most people are going to get the information they need from your profile box.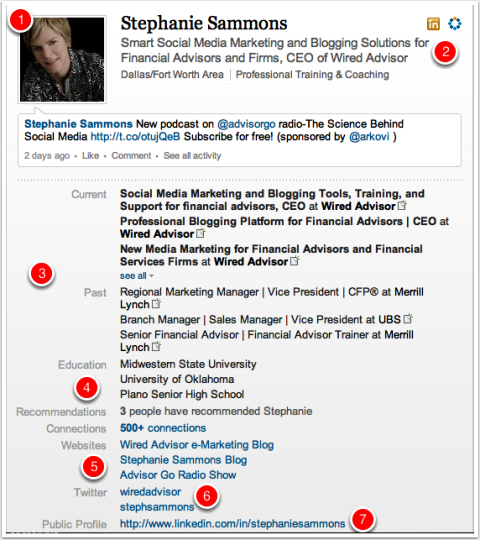 Here are the steps to complete your LinkedIn Profile.
Upload a professional image. This is your very best opportunity to make a great first impression and is essential to attracting connections. No professional photo? No credibility.
Create a compelling headline. You only have 120 characters at the top of your profile to describe who you are, whom you serve and how you help. Use brief, descriptive, compelling keywords so the right professionals on LinkedIn can discover you. Focus on terms that your target markets are more likely to search for. What language do they use? Make your headline text compelling, but use words that resonate with your market.
List your current position and at least two past positions. If you don't list at least two past positions, your profile won't be considered "complete," which can mean missed opportunities to be discovered by prospective clients and customers. Make sure to describe each of your roles in depth, and again use those keywords that will resonate with your target markets! It is also okay to list two or three positions that describe your current role, as I have done in my own profile.
Add your education information. List colleges and the high school you attended in this area. Why? One of the primary search tools within LinkedIn is the ability to locate people with whom you attended school. This is a potential connection point that can open doors for you.
Customize your "website" listings. Under the Websites section of your LinkedIn profile, you can have up to three listed. Choose the "Other" option when setting up each of these links and describe the links to your brand with relevant terms. For example, rather than using the phrase "my website," I use "Smart Social Pro Blog." Not only is this more descriptive, it also gives me a better opportunity to rank for those keywords in search.
Include a link to your Twitter profile. Add your Twitter handle to your LinkedIn profile. Visitors to your profile can now follow you on Twitter directly from within your profile box! LinkedIn and Twitter are tightly integrated. You can share your tweets as LinkedIn status updates (best practice: add #in to the end of specific tweets rather than choosing to send all tweets to LinkedIn), and you can share LinkedIn status updates as tweets!
Edit your "vanity" LinkedIn URL. An example is http://www.linkedin.com/in/stephaniesammons. This will enable your LinkedIn profile link to show up in search results under your name on all the major search engines! It is important to claim those results for your name as they provide a gateway into your personal brand.
Following these seven tips will ensure that you put your best foot forward with a comprehensive snapshot of who you are, what you do and where people can learn more about you. Your LinkedIn profile should serve as one of your most valuable professional digital assets.
#2: Use keywords within your profile summary section
The summary section on your LinkedIn profile is where you have the most flexibility to expand upon who you are, whom you serve and how you help your clients. Although this section is not as visible as your "profile box," it's still important.

Write the text in your summary section in the first person, as if you were talking directly to potential clients. Begin with "My name is…" Why? Because your name is a keyword, and this provides a simple introduction to your story. Your summary section should include keywords that describe how you help your clients in language that resonates with them! Try to stay away from industry jargon if possible. Also, don't stuff your summary section with keywords. Simply use effective keywords and phrases where they fit.
Hint: The "specialties" section of the summary is a great place to list your areas of expertise using descriptive keywords.
To read the next three steps, click here.